SINGULA® SUBSCRIBER INTELLIGENCE PLATFORM
Subscription businesses are hyper-successful when they can systematically and continuously drive growth.

We know that there are three fundamental elements to gaining the right subscriber intelligence and taking action – fast.
1. Where are your subscribers today?

DECISION MOMENTS
Customer journey
2. Where are your subscribers going?

SUBSCRIPTION SCORECARD
Supply v Demand analysis
3. How can you change their behaviour?

ACTION LIBRARY
Next best action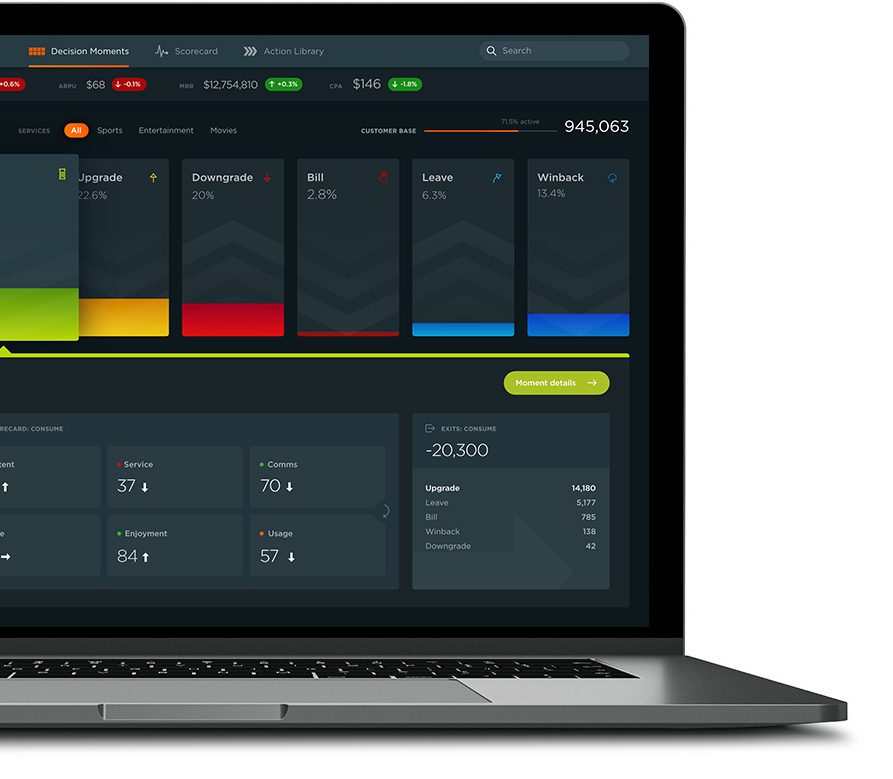 Decision Moments is a customer journey framework developed over the past 20 years.
The Singula Subscriber Intelligence platform segments your subscriber data into eight 'decision moments' indicating in real-time where on the journey each subscriber is positioned.
The Subscription Scorecard analyses your subscription business by considering the continuous energy and tension between supply and demand across six foundational elements (content, service, communication and usage, satisfaction and willingness to pay) to reveal the true characteristics of your subscribers.
Our Subscriber Scorecard: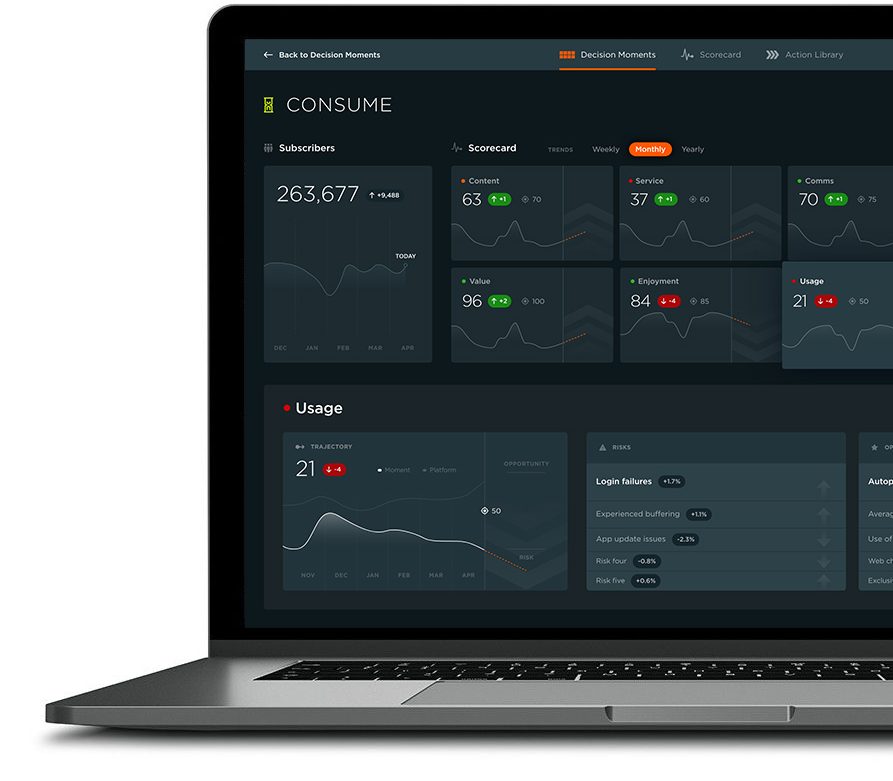 We know that speed to action is a game changer.

The ability to make the right decisions in real-time and take the right next best action, is fundamental to the success of a subscription business.  But in

the Air Gap

it's hard, if not impossible.
In the Activation Layer – everything is possible.
Easily filter actions by the Decision Moments and Scorecard dimension you want to improve
The impact you can expect each action to have on your subscription service
Each action is tagged with a 'Difficulty' to help you plan resources around an activation
Click 'Activate' to configure the necessary integrations for marketing and service delivery tools
To accelerate the process even further we have pre-loaded tried and tested micro communication paths to get you started from the moment your platform is live.
The depth of subscriber intelligence will change the way you make decisions and take action. You can modify the actions suggested but you are not starting from scratch. The work is done. And it's based on 20 years of solid domain experience working in and alongside subscription TV companies to drive growth, rapidly.
conversion on acquisition campaigns
conversion on upgrade campaigns
conversion on churn reduction campaigns
"We've worked with Singula Decisions for over 13 years to manage our customer billing and communications. The decision to deploy the Singula® Subscriber Intelligence Platform significantly extends our relationship enabling us to put data at the heart of our subscriber management and marketing activity. We're always looking at how we can better engage our subscribers at every stage of the customer journey and with Singula Subscriber Intelligence we'll be able to utilise new technologies like machine learning and AI to personalise real-time interactions."
"Using AI to drive customer engagement through Singula® Subscriber Intelligence powered by Microsoft Azure shows the potential of cloud-based technologies to transform businesses today. We are working with Singula Decisions to enable businesses to benefit from new technologies like AI to deliver customer experiences that enhance relationships and help grow revenues."
"EPCC has a long history of working with companies to enable them to benefit from advances in digital technology. Through the practical application of data science, our collaboration with Singula Decisions will result in better services for its customers and so directly increase the company's competitive edge."
TVB Europe Special Edition | 2020
Fife Chamber of Commerce Finalist WANT TO SEE MORE?
See how Singula Subscriber Intelligence platform can drive sustainable growth for your business. Request a demo today and see it in action – just complete the form and we will be in touch.
.