WE ARE PASSIONATE ABOUT DRIVING SUBSCRIBER GROWTH
And have been for the past 20 years. Our hands-on experience has helped leading subscription companies navigate dramatic changes in their markets and the way in which consumers interact with products and services.
DISCOVER DECISION MOMENTS
A customer who is about to sign up to a service needs to be treated differently to an existing customer who wants to upgrade their package. Therefore it is critical for operators to have the flexibility and ability to drive personalised offers and promotions and our Decision Moments framework provides your business with the power to engage with subscribers and drive long term loyalty.
The key to growing revenues is understanding the full customer journey and we believe there are 8 key Decision Moments a customer will experience when engaging with a subscription service
The first step in the customer journey when a consumer signs up to a subscription service. This should be an effortless experience.
Gives consumers the opportunity to try your service. It is important to make a good first impression to start to build relationships with your customers and maximise conversion into a paid subscription.
CONSUME
Using the service
When subscribers are using your service; watching content and accessing all the great features.
UPGRADE
Adding new bundles
Encouraging customers to spend more on your service. Adding new packages or premium content will increase average revenue per user.
DOWNGRADE
Effortless sign-up
Proactively engage with subscribers to lower their package to improve retention. It is better that subscribers downgrade than cancel the service completely.
BILL
Frictionless billing
Offer multiple payment options and monitor customer behaviour to prevent billing issues.
LEAVE
Simple cancellation
Leaving the service should be easy and during a cooling off period, you can encourage them to stay with retention offers.
The last step in the customer journey to attract customers, who have already left, to come back. This should be a simple process and an opportunity to welcome them back.
"We've worked with Singula Decisions for over 13 years to manage our customer billing and communications. The decision to deploy the Singula® Subscriber Intelligence Platform significantly extends our relationship enabling us to put data at the heart of our subscriber management and marketing activity. We're always looking at how we can better engage our subscribers at every stage of the customer journey and with Singula Subscriber Intelligence we'll be able to utilise new technologies like machine learning and AI to personalise real-time interactions."
"Using AI to drive customer engagement through Singula® Subscriber Intelligence powered by Microsoft Azure shows the potential of cloud-based technologies to transform businesses today. We are working with Singula Decisions to enable businesses to benefit from new technologies like AI to deliver customer experiences that enhance relationships and help grow revenues."
"EPCC has a long history of working with companies to enable them to benefit from advances in digital technology. Through the practical application of data science, our collaboration with Singula Decisions will result in better services for its customers and so directly increase the company's competitive edge."
PSYCHOLOGY OF A SUBSCRIBER
Subscribers are human. It's fascinating to explore the psychology behind how we think, feel and behave when interacting with our TV subscription services.
Delve into the mindset of a subscriber when they sign up to a service
DOWNLOAD ACQUISITION REPORT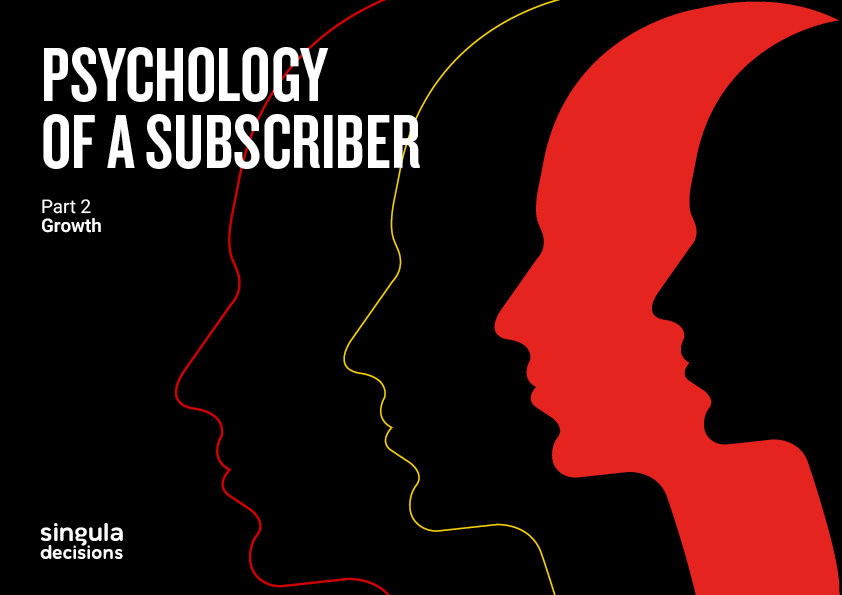 Discover proven best practices to increase average revenue per user
DOWNLOAD GROWTH REPORT READY FOR A DEMO?
If your current solution is creaking and you need to scale your subscription business get in touch for a chat and a demo.