DO YOU UNDERSTAND THE HEALTH OF YOUR SUBSCRIBER RELATIONSHIPS AND KNOW HOW TO ACT ON IT?
WE HELP YOU TAKE THE RIGHT SEQUENCE OF ACTION TO DRIVE SUSTAINABLE GROWTH
Sifting through reports manually or looking at dashboards is simply not enough – especially with monthly subscription cycles. The need to react much faster to customers is not a 'nice to have' but a must if long-term loyalty is to be achieved. 
The ability to understand the health of your relationship with your subscribers and act upon it with the right sequence of actions is critical to drive growth.
This is not just a marketing challenge. This is about arming each customer centric team, like data, technology, operations and support, with the insight and action they need to ensure the best experience for each and every subscriber.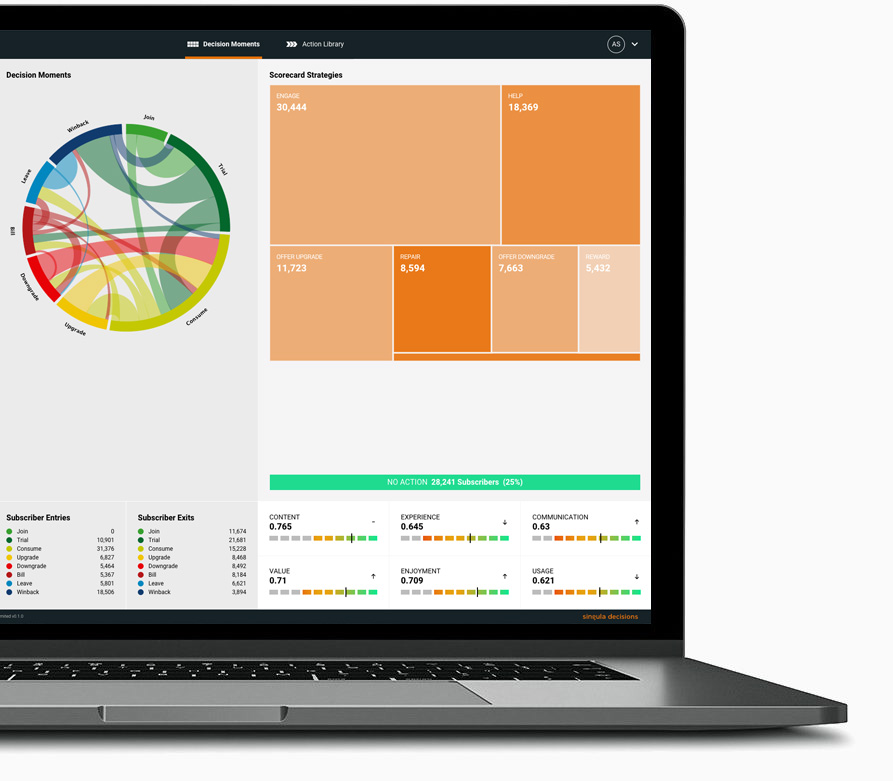 SINGULA® SUBSCRIBER INTELLIGENCE
The Singula® Subscriber Intelligence platform orchestrates sequences of actions that help subscription services achieve the perfect growth strategy for each subscriber.
DECISION MOMENTS
Knowing where your subscribers are along the customer journey
SUBSCRIPTION SCORECARD
Understand the health of each subscriber relationship with your service
SCORECARD SEGMENTS & ACTIONS
Determine the best action to take for every subscriber
SUBSCRIPTION DATA MODEL & PIPELINES
Architected to drive value quickly
Discover Singula Subscriber Intelligence Platform.
"For the past few years, we've had the 'idea' to translate the results of data analysis into actionable campaign in real-time, but we hadn't been able to come up with a practical methodology. It was exciting to work with Singula Decisions to connect the dots and make it all fit together."
PSYCHOLOGY OF A SUBSCRIBER
Subscribers are human. It's fascinating to explore the psychology behind how we think, feel and behave when interacting with our TV subscription services.
Delve into the mindset of a subscriber when they sign up to a service
DOWNLOAD ACQUISITION REPORT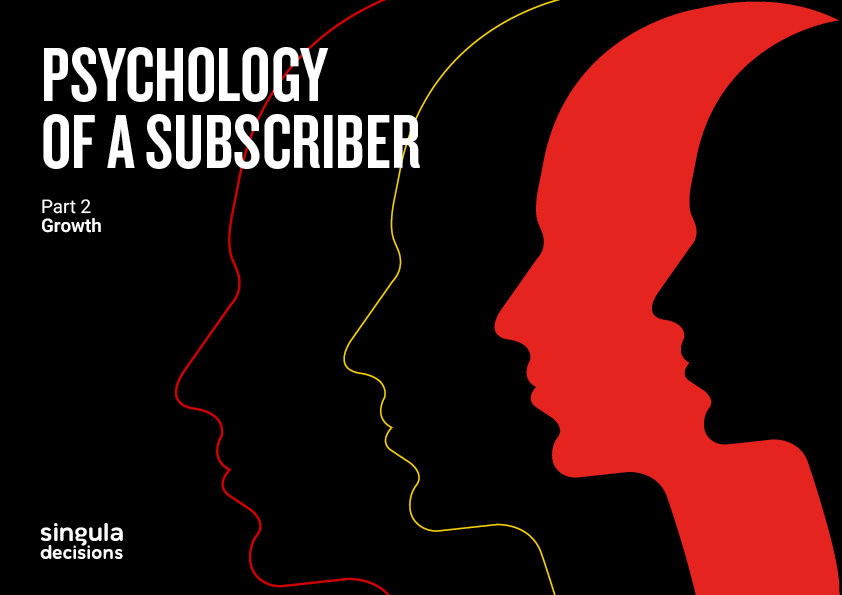 Discover proven best practices to increase average revenue per user
DOWNLOAD GROWTH REPORT OUR EXPERIENCE
Over 20+ years TV subscription experience
OUR APPROACH
Understanding the health of your subscriber relationships
THE AIR GAP
Overcoming the challenge to connect data with action
SUBSCRIBER GROWTH
Rapid, strategic and sustainable
SEQUENCE OF ACTIONS
Orchestrating the right strategy and action at the right time
SUBSCRIBER INTELLIGENCE
Translating the signals and patterns of subscriber behaviour
OUR EXPERIENCE
Over 20+ years TV subscription experience
OUR APPROACH
Understanding the health of your subscriber relationships
THE AIR GAP
Overcoming the challenge to connect data with action
SUBSCRIBER GROWTH
Rapid, strategic and sustainable
SEQUENCE OF ACTIONS
Orchestrating the right strategy and action at the right time
SUBSCRIBER INTELLIGENCE
Translating the signals and patterns of subscriber behaviour