WE ARE PASSIONATE ABOUT DRIVING SUBSCRIBER GROWTH
For over 20 years, our hands-on experience and technology platform has helped leading subscription companies navigate dramatic changes in their markets and the way in which consumers interact with products and services
conversion on acquisition campaigns
conversion on upgrade campaigns
conversion on churn reduction campaigns
ACQUIRE, RETAIN AND GROW YOUR SUBSCRIBER BASE
You need a more robust platform to support your next generation of growth and provide a superior level of service and experience to your subscriber.
The Singula® Subscriber Management platform offers the flexibility to manage subscription-based business models covering AVOD, SVOD, PPV services, as well as product catalogues, bundling, pricing, discounts and entitlements.
SUBSCRIPTION MANAGEMENT
Tailor offers to the needs of your subscribers and easily manage multiple price variations and payment frequencies
BILLING
Billing and revenue management that can provide secure and accurate billing, invoicing and credit control.
CRM
Understand your customers and segment your data easily for offers and communications. Encompass all customer activity, behaviour and history with full integration of data systems ina single customer view.
Discover Singula Subscriber Management Platform.
"Extending audience reach without compromising security is one of the biggest challenges facing premium content broadcasters today. As a sports broadcaster with high-value content like premier league football and rugby union this is especially true, we have chosen Singula Decisions to help us overcome this challenge. Singula Decisions' robust platform and extensive experience in the media industry make it an ideal partner for such an important part of BT Sport."
"We have an excellent relationship with Singula Decisions and work in close partnership to manage our subscriber base at all customer touch points. Singula Decisions has a thorough understanding of our business and works as an extension to our team to support us in achieving the best results, every time."
"As a trusted partner for nearly a decade, Singula Decisions understood our challenges and the specific needs we faced in preventing churn and increasing customer engagement. The team worked collaboratively with us to identify the steps needed and were able to seamlessly support our migration to the Singula® Subscription Management platform."
PSYCHOLOGY OF A SUBSCRIBER
Subscribers are human. It's fascinating to explore the psychology behind how we think, feel and behave when interacting with our TV subscription services.
Delve into the mindset of a subscriber when they sign up to a service
DOWNLOAD ACQUISITION REPORT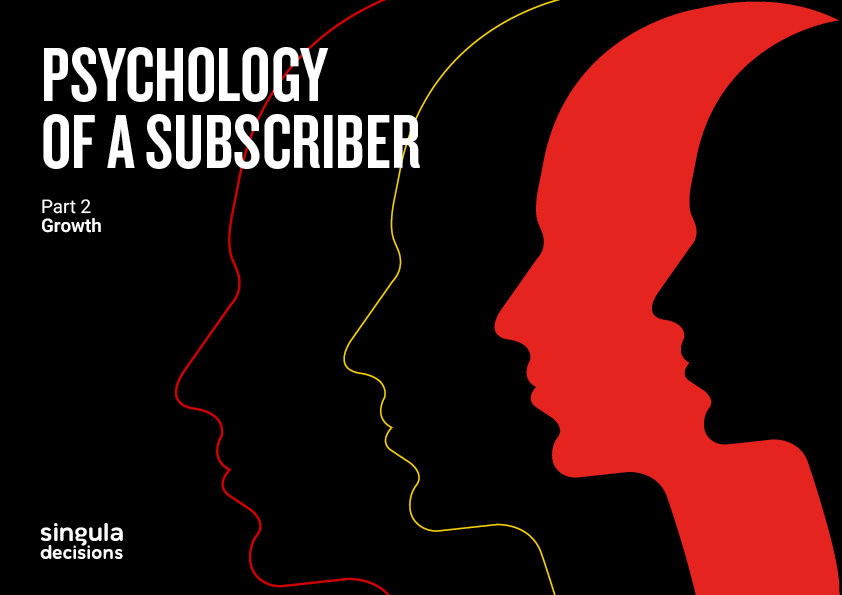 Discover proven best practices to increase average revenue per user
DOWNLOAD GROWTH REPORT